We're very excited to share with you our very first interview! It's for a beautiful online magazine called FoodFetish that specializes in cum on food – also one of our favorite things! Here's a small preview of issue 6 where our interview appears: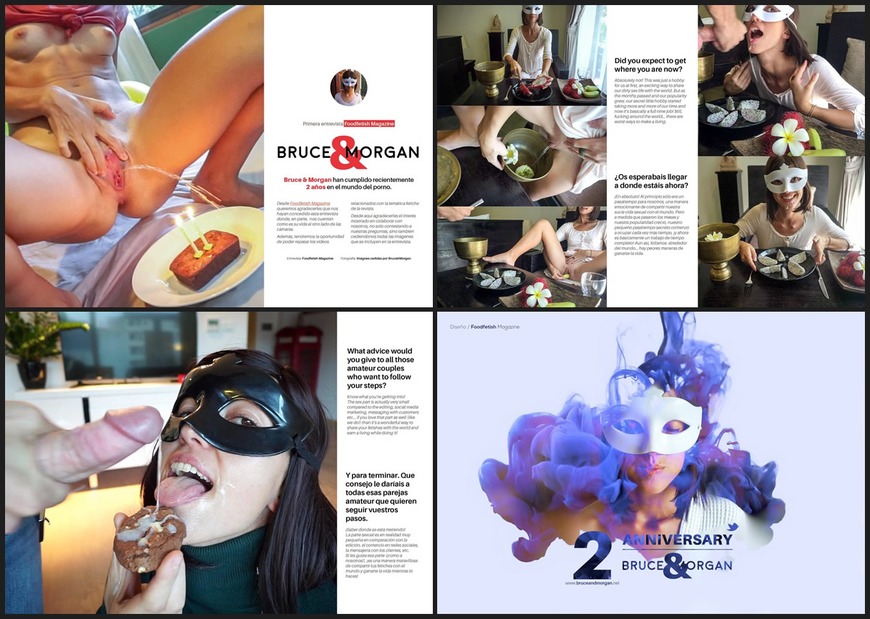 We're in more than 20 pages of that issue so check out the whole thing here (it's free!):
https://issuu.com/foodfetishmag/docs/foodfetishmag06/1?ff
If you're into cum play and cum on food you should really follow their twitter feed and read all of the previous issues – we're in a few of them, alongside a huge number of sexy amateur couples doing fun things with sperm and food! Also remember many of the images are clickable and link to the actual videos themselves! Here are the first 5 issues:
A huge thanks to the very hard working guy behind FoodFetish mag, it's great to see our content featured in such a beautiful way! Here's the entire interview in case anyone is having problems loading up the issuu interface:

For those who do not know Bruce and Morgan. How would you introduce yourself?
We're a real couple who makes kinky porn while traveling the world. We like cum play (and cum on food!), public sex, rimming but we're probably most well known for our golden shower videos.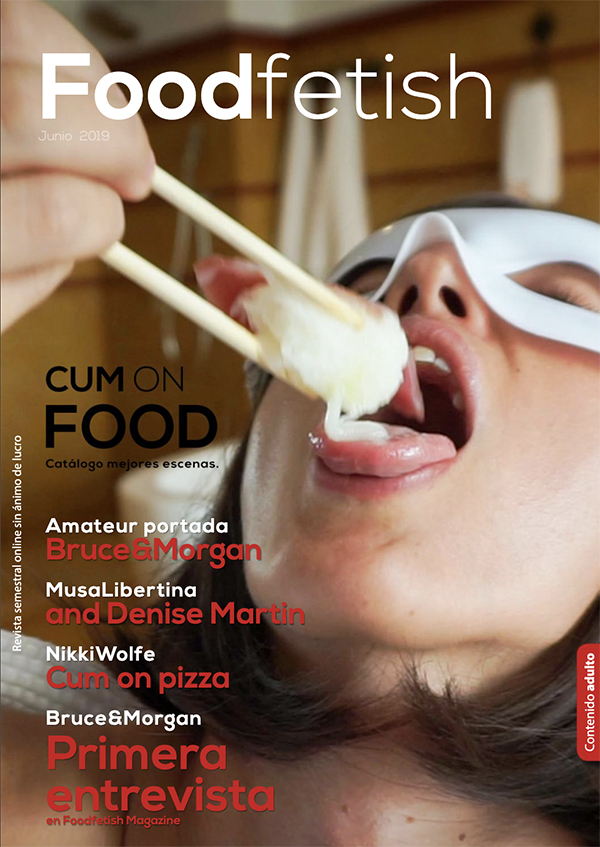 How did it all start? When did you start to shoot porn and publish the videos?
We started filming our sex life 3 years ago (right when we started dating really) but it took another 6 months before we had the guts to put anything online. Shooting porn together as always felt very natural and fun… but we were so nervous about publishing anything on the web!

It turned out we didn't need to worry, we got a hugely positive reaction almost right away! So we opened our own website bruceandmorgan.net a few months after that and the rest is history.
Did you expect to get where you are now?
Absolutely not! This was just a hobby for us at first, an exciting way to share our dirty sex life with the world. But as the months passed and our popularity grew, our secret little hobby started taking more and more of our time and now it's basically a full-time job! Still, fucking around the world… there are worst ways to make a living.
Now that you stand out in amateur porn, how does it affect you in your daily life? Friends, work, family …
Surprisingly it hasn't had much impact. We used to work online before we started doing porn so that part is still the same – we still spend most days on the computer… there's just a lot more nudity on our screens during a normal work day! The family members and friends who know about what we do are very supportive.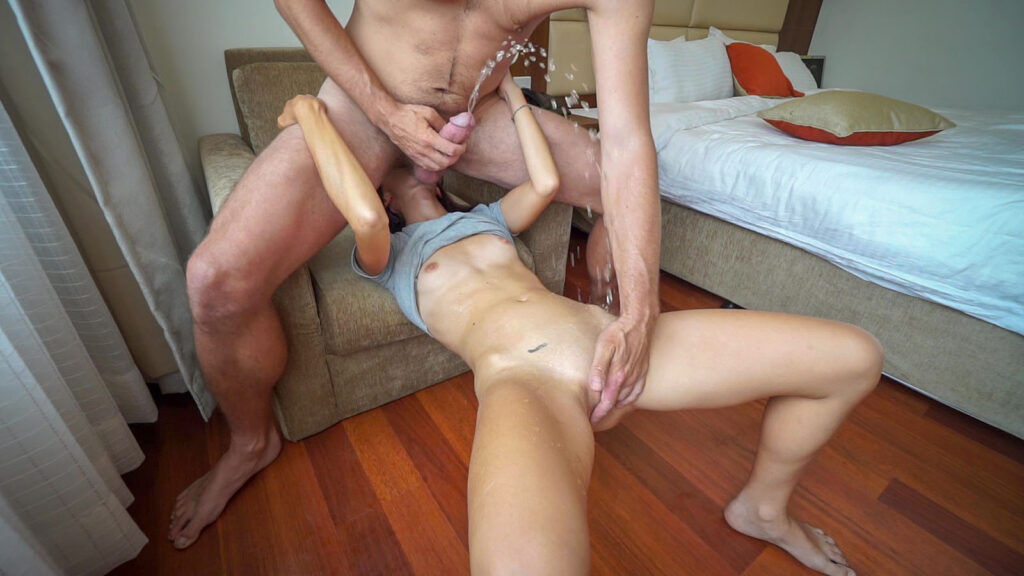 I imagine that you bring your fantasies to the videos you record, which has been the one that has excited you the most?
Yes we do! Everything you see in our videos is something we truly enjoy doing. For Morgan it's probably Impromptu Piss Rimming since it was so spontaneous… we just put the camera there and started doing whatever we wanted! It got really dirty, really fast ;) There's also some great cum play at the end, which is a big turn-on for Morgan.

For Bruce it's anything outside in public, like Peecnic or Cum Walk in a Public Park… there's just something amazing about cumming all over your girlfriend's face outside in full view of anybody passing by!
Any fantasies that you have not yet made behind the camera?
So many! We have more ideas than we can possibly shoot in our lifetime. For example: we'd love to do a "cum on food" in a public restaurant and have Morgan eat her sperm-flavored plate with people around. We've seen some videos like that in fast food chains but never in a nicer-looking restaurant…

Another one would be a bukkake-style shoot since it's something we enjoy watching. Doing it for real however must be so intense… and could Morgan really handle that much sperm at once? Sure is nice to dream about.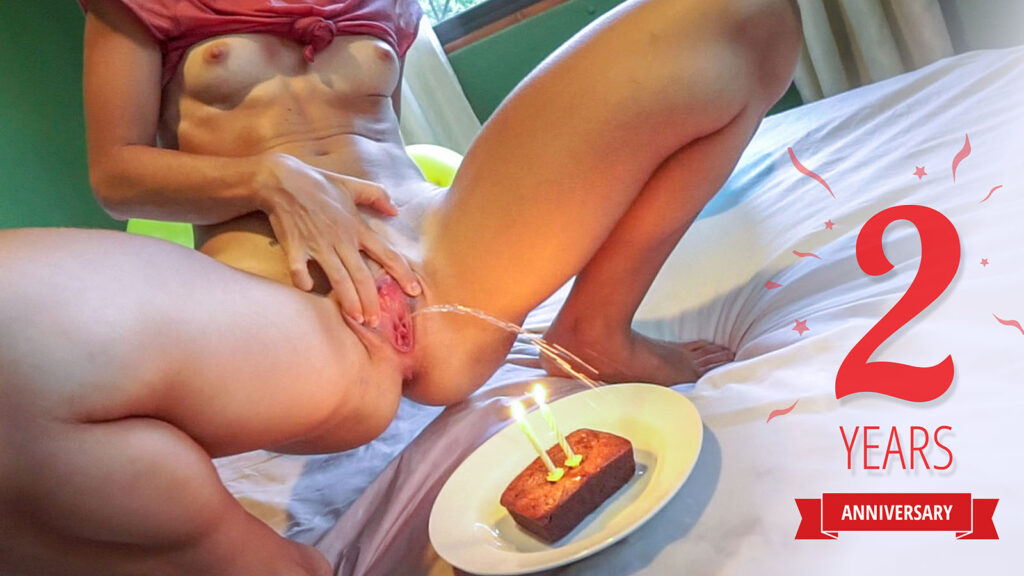 Of all your videos, is there a favorite scene?
Perhaps our 2 Year Anniversary video. We are so proud of it! There is everything we like in it – cum on food (a chocolate cake!), rimming, golden shower, rough sex – and it's inter-cut with flashbacks of our previous videos as well as unreleased future scenes.
It took forever to edit, but it was worth it! Great to look back on 2 years of making porn, and think of what we're going to do next.
When you record a video, what do you think knowing that there are many people who are going to get excited watching it?
It's a big part of the excitement for us. It's crazy to think that when Morgan is looking into the lens, there are thousands of eyes looking back… and most of them are probably pleasuring themselves in some way! It's a really arousing thought, though we sometimes forget during the actual recording. There are just so many things to think about… angles, light, and of course the sex!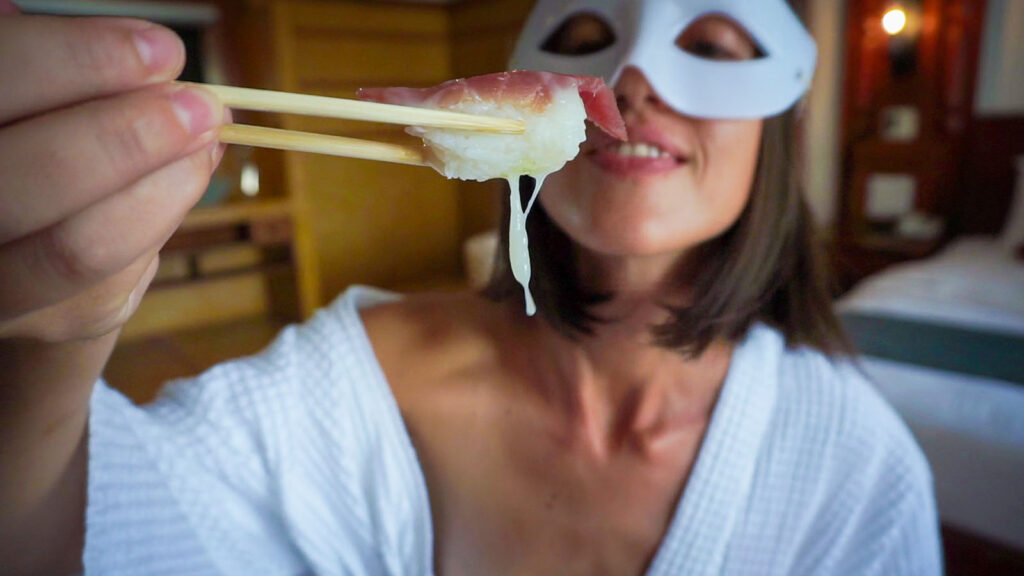 Where do you see yourself in another two years?
In terms of travelling… maybe Japan! We've always dreamed of going there as you may have guessed from our video Sushi Delivery! In terms of porn we'd love to be making even more intimate, better-looking porn than we do now. And we've ben practicing deepthroat for a while now – hopefully in two years Morgan will be able to take Bruce's entire cock inside her throat! :)
What advice would you give to all those amateur couples who want to follow your steps?
Know what you're getting into! The sex part is actually very small compared to the editing, social media marketing, messaging with customers etc… if you love that part as well (like we do!) then it's a wonderful way to share your fetishes with the world and earn a living while doing it!