Time for part 3 of our ever-popular series, Piss Drinking Pioneers! This week we are talking about the legend, the superstar, the piss queen herself… Viktoria Goo!
I discovered Viktoria shortly after stumbling on Annette, right in the very early days of my golden shower explorations. To say that they both had a huge impact on me and my attitude towards pee would be a gross understatement!
While Annette exudes exhuberance and energy, Viktoria is all about calm, grace and poise. I like to imagine her as a slavic princess who got bored with castle life one day, got fake tits and started shooting the dirtiest porn imaginable, all the while looking classy as hell. I think it's this contrast that makes her videos so damn hot – she has a certain grace about her, a distinguished air that clashes with the filth that she does and elevates it to a whole new level.
Needless to say it was love at first sight!
It wasn't until later that I learned all about the german studio "John Thompson" aka GGG, and how they were responsible for a lot of the best pee porn of that period. As a neophyte you can imagine my shock when Bruce started showing me her other videos, especially from a series called "Devot" – their most intense stuff… Dozens of guys groping / fucking / sodomizing her, piss and cum showers, ass licking, chains…. smoke machines?!
I remember being particularly outraged by 2 of the scenes that Bruce showed me that day. In the first one (pictured below, left) she is wearing red stockings and is on the floor upside down, legs spread while a guy pisses in her mouth from a standing position. Something about that felt so incredibly degrading… she is just so vulnerable there, more object than person, a true human urinal. How could she let that happen to her? And… why was she smiling??
In the second scene (pictured above, right) she is chained to some metal posts and fucked hard in the ass as several guys take turn pissing on her head/face. Not sure what it is about that scene that had such a big impact on me… Is it the chains, her piss-soaked hair all over her face, or the fact that she's clearly enjoying the things being done to her? Far from dodging the piss she's clearly trying to swallow as much as she can, a huge grin of pleasure on her face…
Looking back on it, I think this was the exact moment Bruce & Morgan was born. I didn't decide to make porn right there and then – that would be much later. But it showed me just how fun playing with submission/degradation can be, both for men AND for women… I could feel that underneath the outrage I felt watching these images was a pretty strong undercurrent of sexual excitement that just begged to be explored, if I could just let myself go there.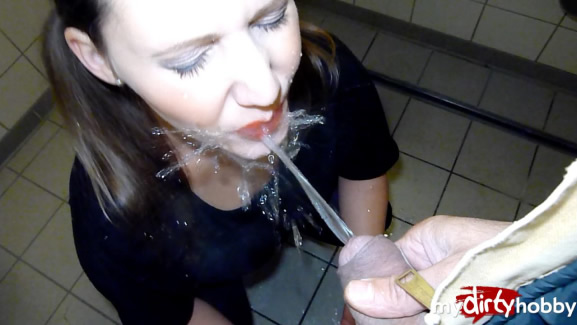 But enough about me – this article is about Viktoria! I've said it before and I'll say it again: I don't understand how she can swallow so much piss. As a piss drinker myself I know very well that the pee doesn't simply disappear – it fills my stomach to the point of feeling very, very full! Yet she seems to be able to swallow 20, 30, 40 mouthfulls of piss from a small army of guys with ease, as if she's digesting it in real time. In her best movies it's simply jaw-dropping how much urine she can make disappear in a few minutes.
I'm happy to report that even though she is not shooting with GGG anymore, Viktoria is still very active in the porn world! Her own website (viktoriagoo.com) hasn't been updated for some time, but check out her MyDirtyHobby page, she's been publishing there pretty regularly.
Dear Viktoria, wherever you are I am sending you a nice wet kiss and a sincere "thank you" for showing me that it's ok for a woman to enjoy the kinkier side of sex!
– Morgan xx