Here we are, debuting a new series of blog posts we'll call "Piss Drinking Pioneers"! We want to keep the blog going with new content and since you guys haven't been sending us too many new questions lately (don't be shy, get in touch!) we'll be sharing some of our favorite pee-positive performers with you, starting with the unmissable Annette Schwarz!
Annette is amazing. Her videos are some of the first I came across when I typed "golden shower" on a tube site, back when Bruce was just starting to introduce me to pee play (that story is here). While many of the performers I saw seemed to be going through the motions to get their paycheck, Annette was something else entirely. She seemed to *love* getting pissed on! Her attitude was so positive, so open to it all that it planted a seed in my head that has been growing ever since.
Her GGG scenes often feel like a big happy party – piss and cum flying everywhere, her mouth open trying to catch it all. How fun!!
And the drinking… Schwarz can drink SO MUCH urine! From multiple guys at once! To this day I still don't understand how all this pee can fit in her stomach. Were they cutting in the middle of scenes so she could go puke it out? I know from experience that even just one guy can fill me up pretty thoroughly, so her performance is just… wow! 🤯
I'll let you in on a little secret: the reason Bruce and I used a bowl so often in our early videos (A Warm Bowl of Piss and Cum…, Extreme Perversions in the Art Studio, Cum Cleaning with Piss etc etc) is in large part because of this exact scene, pictured on the left. It's a masterpiece – the angle, the light, the many streams of pee shooting out from everywhere… it was a big turn on for us so we tried to emulate it as best we could. (UPDATE Sep 2019: check out our video Cum Cleaning with Annette – it's this exact scene playing in the background!)
I wish she was still around. I would love to have a chat with her about her experience in the porn world. How was it to shoot with that many guys? Is she into golden showers in her private life as well, like Bruce and I? Unfortunately she seems to have retired, her websites have been down since 2014 and I can't find any of her social media profiles. Does anybody know what happened to her?
Wherever you are Annette, I salute you.
Your sister in kink,
-Morgan xx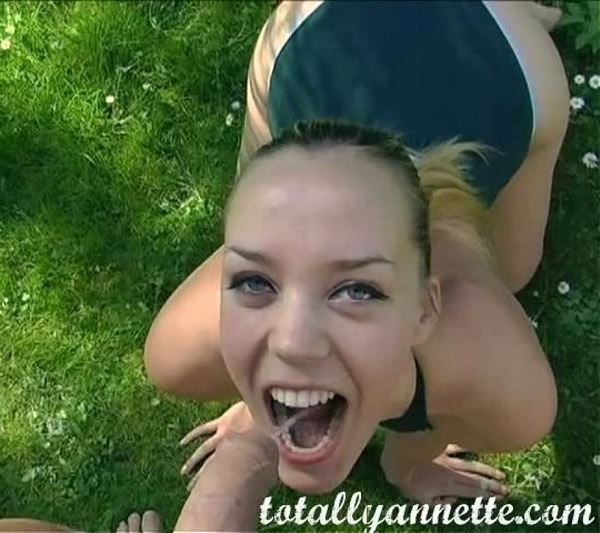 Interview with her: Inside Annette Schwarz (sadly not mentioning pee)
Wikipedia page: Annette_Schwarz