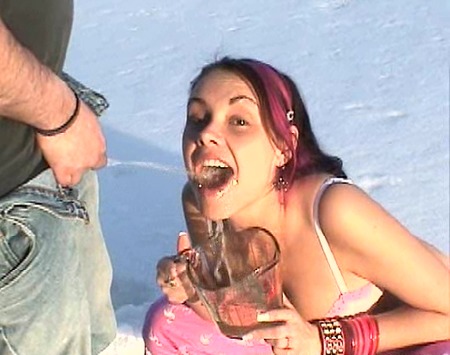 Our first "piss drinking pioneer" article proved incredibly popular (read it here!) so we are back this week with a brand new edition, this time featuring the voluptuous Zophia Myaw (also known as Zophia Meow, Zophya, Shanna Ryder, Vandal Vyxen and Myriam Crépeau!)
I discovered Zophia in the usual manner – snooping around Bruce's various tube site accounts. He had close to a dozen of her piss drinking clips in his favorites and so it was with a fair amount of curiosity (and maybe just a splash of jealousy?) that I clicked on the first one…
Zophia and a guy are standing in the middle of a snow field. She in a bra, him in a t-shirt (those crazy warm-blooded french canadians!) he proceeds to empty his sizable bladder into her wide-open mouth, in full view of any passerby. The golden light (sunrise? sunset?) makes everything sparkle including the overflow of urine that she collects for later consumption like a good girl. Angelic face, perfect breasts, she sucks on some freshly-made yellow snow before the spectre of severe-hypothermia forces them to finish their kinky games indoors. Beautiful!!! (click here to see it)
The studios that made these clips (frenchpee, bukkakepee and sweetauditions, sadly all offline) are undoubtedly at the opposite end of the spectrum from GGG in terms of production value. Extreme "homemade feel", bad lighting, a very chaotic set whenever there are many people around… All part of the charm I suppose! It definitely feels very real, which in turn makes it hotter. Unfortunately the resolution is also very low (often 360p) which is just too bad. Can you imagine what that bukkake + golden shower scene in the blue inflatable pool (first 2 pics below) would look like in 1080p or 4K? It really is unfortunate that a lot of excellent content from that era is now difficult to watch on modern high-res monitors… But I digress.
Just like Annette and myself, Zophia clearly enjoys what she is doing. A lot. Sometimes you can even catch her eyes glazing over from pure naughty bliss as a powerful jet of urine lands in her mouth and pee foam cascades down her chin. She's not shy about swallowing, either! She gulps it all down, not in tiny fake sips but in the huge and confident mouthfuls of someone that does this stuff in her private life as well (ok I'm just speculating! I have no idea if she does. But her enjoyment seems absolutely real, which is a big turn on).
Unfortunately for us it seems her pee-loving period came to an end shortly after starting (on camera, anyway). She transitioned into much more mainstream porn and is now doing a little bit of everything – dancing, modelling, dominatrix and even making jewelry according to her facebook page.
You can check out what she's up to these days and support her at her official website VandalVyxen.xxx (currently down?) or her facebook and twitter pages. As for me I cannot believe Bruce and I haven't shot a single pee scene in the snow yet! This is going straight to the top of the wish list. I'll be wearing a lot more than a bra though, thrust me!
– Morgan xx
Here's a good overview of her piss drinking skills:
https://www.tube8.com/fetish/zophia-myaw-piss-cum-compilation/3436461/

imdb.com/name/nm2014078/ (sadly not mentioning her early golden shower stuff)

twitter.com/Vandal_Vyxen

facebook.com/VandalVyxenOfficial