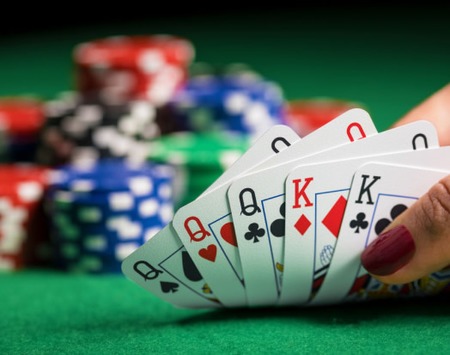 Three days ago I told you about Korrupted Kristy's piss drinking video, and how I got extremely horny while masturbating Bruce as he watched it. So horny in fact that I had an extremely depraved sexual fantasy playing in my head the entire time, which I will share with you today!
I guess my imagination took what was happening in the video (go read my blog post about it if you haven't already!) and personalised it with Bruce and I as characters. We've been playing cards a lot lately, which might explain the poker game context… It also provides a reason why I am "forced" to do things (ie: the poker chips) which makes it even hotter for me as things are happening "against my will". It's a huge turn-on (as a fantasy – not real life, of course!).
Last thing to note… I'm pretty shy about writing this. Bruce is making me do it, and I know many of you will like it so I'm typing it now. But please keep in mind that I am a very good, respectable girl in real life! I guess my mind becomes hyper-sexualized when forced to "edge" (masturbate without reaching orgasm) for many, many days in a row. Enjoy!

I am playing poker with Bruce and 3 of his buddies. I make a few wrong bets and lose all of my chips, but Bruce proposes to give me some of his stack in exchange for "showing off" one of my skills to his friends. I say "sure", realizing too late that he's not talking about my juggling abilities… he gets up, unzips his pants and whips his cock out right there in front of them, ready to pee. I try to laugh it off, try to convince myself that he's joking. He's not. He's giving the severe, "obey my command now" eyes. I can see the expression on his friends' faces slowly change from laughter to puzzlement to something else…
I am frozen in place, my face bright red. "There is no way I'm doing this in front of them" I think, and yet all it takes is a firm and loud "on your knees Morgan" from Bruce and my muscles instinctively obey. I cannot fight 3 years of conditioning. I kneel in front of him, look straight into his eyes and open my mouth, ashamed of myself for not protesting more.
A stream of warm pee immediately hits the back of my throat and keeps flowing […]
Become a member to finish reading this story!