Welcome to our third masturbation assistant blog post! As a reminder this is a game I play with Bruce where I choose piss/degradation-related videos for him on tube sites and then jerk him off while he watches them. Hot stuff!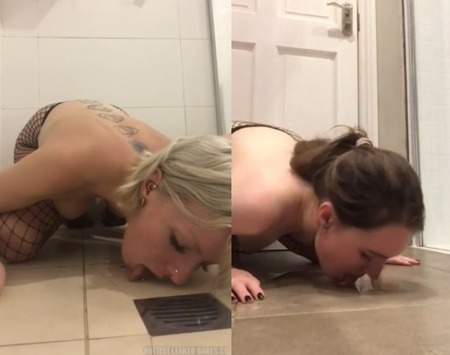 Turns out social distancing is the perfect opportunity for this sort of game, and we have been playing quite a few times lately. I often have to watch hundreds of videos before finding the right ones to give Bruce maximum pleasure – hot girl, very dirty/taboo, something we've never seen before – and at no point during this search do I think about the pandemic. It's wonderfully relaxing.
I'm especially proud of this selection so I just have to share it with you. It made Bruce cum very hard – right into an ice cube tray, to save for later (might make a video about that!). The concept is simple: 3 different videos of cute amateur girls peeing on the floor and then licking their own piss. And filming themselves doing it, no less.
Moving up and down on B's big dick as we watched the clips I kept thinking: do these girls know their piss-licking video is online? Are they doing it because it turns them on, or were they talked into doing it? I assume they are into submission/humiliation like I am and that the videos are legit since I got them on 2 major tube sites (PH and XH) but if anybody has any more information, please share with us! I will of course remove them if it turns out they do not want these videos out there.
Australian Blonde
There's a lot to like in this video. Nice light, hot body, 720p quality. I love that she blocks the drain with her hand and then licks it. She also really does seem like she's enjoying licking her own piss, or at the very least, enjoying watching herself doing it since she keeps looking back at the camera. Also: kudos for actually slurping the piss from the floor instead of just putting her tongue on the pee! If you're not going to swallow some, then what's the point?
Cleaning Up Her Mess
I know, the quality is pretty bad and switching from portrait to landscape in the middle of a video is a big no-no (actually, just filming in portrait is pretty bad. C'mon girls, embrace landscape!). Still, I feel like this girl more than makes up for it. She looks so young and naive, and I just love how her body looks in that position… I kept wishing the door behind her would open and her dad or brother would walk in on her like that, naked and on all fours, licking her own piss.
Girlfriend
The same kind of fishnet stockings as the "australian blonde" girl in the first video?!! Are they friends? Is this really a coincidence, or is there a worldwide secret society of piss licking girls that I'm not aware of? And if so, how can I join? These are my sisters in kink after all. I feel a kinship with any girl I see on the internet doing sexual things with pee. It takes a huge amount of courage to film yourself doing something so taboo, and then putting it online… and while I enjoy and am turned-on by writing or saying degrading things about it, the truth is I have a huge amount of respect for them!
I love how well we see the pee in this one. Since piss is mostly water and thus transparent, this is easier said than done. You need lots of light, and a bright surface behind that gets reflected in the small pool so the viewers know it's there.
Bruce's favorite part was at 2:38, when her hair falls into the pee and she's clearly not very happy about it. Uh-ho… knowing him, I bet it won't be long before he puts me in a similar kind of situation!

That's it for this one! Please let me know in the comments below which video you liked best, and what you liked about it! Who knows, your ideas could come in handy for us very very soon :)
– Morgan xx